There are many errors in MS Outlook that cause problems for its users. Most of these errors can be easily resolved but hinder the process of sending emails. Errors in Outlook are characterized by alphanumeric codes with the help of which users can identify a particular error. In this blog, we will take into account the error code 0x80070003 of Outlook 2016.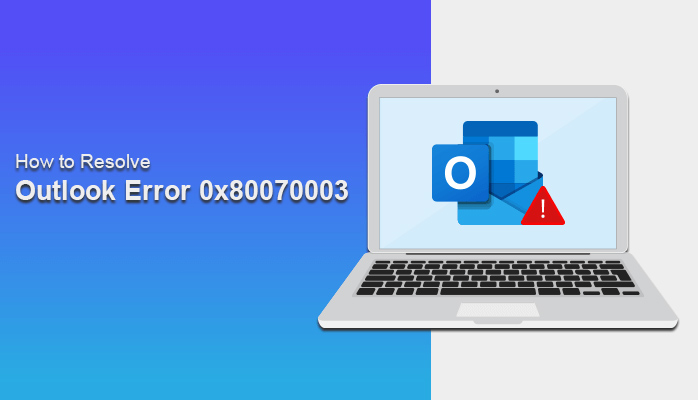 MS Outlook is a professional email client that provides many services like Contacts, Journals, Tasks, Notes, Calendars, etc. It takes into account the Exchange server to send and receive e-mail. Apart from this, many users also use the Microsoft SharePoint application along with Outlook for better information transmission.
To deal with MS Outlook's Windows Error Code: (0x80070003), you can use the methods mentioned later in this blog. But before that, let us understand the reasons why this error is increasing. 
Read: How to Fix Outlook Error 0x8004010f – Step by Step
Reasons for the Outlook 2016 Error Code 0x80070003
However, there are several reasons for the error: 0x80070003 may appear in Outlook. The most common are mentioned below.
Misconfiguration of a user's Outlook profile can be a significant reason for this error. Incorrect configuration settings generate many errors including this one.

Virus and malware infiltration on the system affecting the Outlook application can also cause this error. These events corrupt Outlook files affecting their behavior.

Improper installation of the Outlook application can also cause this error to appear. If the application is not installed correctly, some important files affecting the operation of the application may be missing.

A sudden system failure causes the Outlook application to shut down suddenly, which may hinder Outlook 2016 to generate this error.
These reasons are common to produce not only error 0x80070003 but also other Outlook errors such as 0x800ccc92. Methods to resolve Outlook error: 0x80070003 are mentioned below. You can solve other Outlook errors 0x800ccc92 without any help or technical support.
Methods to Fix Outlook/Windows Error 0x80070003
The two methods given below are able to fix this error. You can follow these methods step by step properly.
Method 1: Through REGEDIT
To use this method, the user must first delete the Outlook profile. This will only remove the settings. After that, follow the steps below to complete the process and resolve Windows 10 error code 0x80070003.
Start REGEDIT on your PC.

Now go to HKEY_CURRENT_USER\Software\Microsoft\Office\14.0\Outlook\.

After that remove all files from location and folder like: \PST,\Search\,\Search\Catalog

Then you have to rename the folder that your profile is in.
C:\Users\"username"\AppData\Local\Microsoft\Outlook
Finally, add all Outlook settings to your profile and restart the MS Outlook application.
Once you have completed all the above steps correctly, your Windows Update error 0x80070003 will be resolved.
Method 2: Using Shell Folders in REGEDIT
This method also uses Windows Registry Editor to fix Windows 10 error code 0x80070003. It can be opened in different versions of Windows using the methods below.
For Windows 7: Click the Start button, type regedit.exe in the search bar, and press Enter.
For Windows 8: Launch the Run command, type regedit.exe and press OK.
Now follow the below steps to fix Outlook error 0x80070003.
Once you have Registry Editor open, locate and tap the subkey at the bottom.
HKEY_CURRENT_USER\SOFTWARE\Microsoft\Windows\CurrentVersion\Explorer\User Shell Folder
Then find an individual in value.

Here you need to check whether the data field has a valid space.

Copy and paste the location into Windows Explorer if you have any problems.

Now check if you can find yours.

Once your files are recovered, double click on Personal Value.

Copy and paste the path to the My Documents folder and press the OK button in the Value data box.

You will be able to see %USERPROFILE%\DOCUMENTS in the Value data box.

Finally, exit Registry Editor.
All the above methods can solve Windows 10 error 0x80070003. However, both these manual methods are complicated and can be difficult for novice users to perform. They also require prior technical knowledge of the user to perform them effectively.
Conclusion
Here we have looked at Outlook error 0x80070003 and its solutions. This is a common error faced by Outlook users that affects the proper functioning of Outlook. The mentioned manual methods can help you to resolve this error. Perhaps, they have some drawbacks that limit their use. You can opt for the method of professional third-party PST recovery tools to resolve the error by repairing Outlook files.