Are you struggling with Outlook 0x80040115 error and looking for solutions to resolve it? So this is the place where you will find all possible solutions to your questions. So read this guide to understand it completely.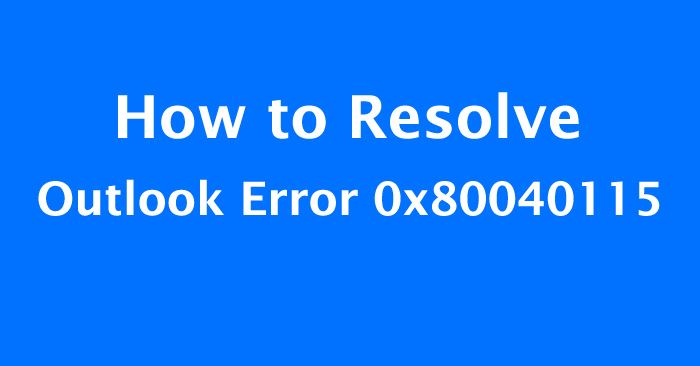 Read: How to Fix Error 0x80070003 in All Outlook 
What does Outlook error 0x80040115 mean?
Error 0x80040115 is a common problem that users come across while sending or receiving emails through Outlook. This error will occur when you try to send mail and you will get an error message which is displayed below:
"Microsoft Exchange Server reported an error (0x80040115): Connection to Microsoft Exchange Server is not available. Outlook must be connected to complete this action"
What Are the Causes of Outlook Error 0x80040115?
Incomplete installation: One of the main reasons that cause such problems is an incomplete installation of Outlook. Some users reported that they are facing this error due to corrupt or incomplete installation.
Poor internet connection: The main reason could be a weak or weak internet connection in most situations. If so, then your internet connection should be checked and it should be connected to a stable and strong connection.
Large or Large PST Files: Typically, copies of events are stored in a PST file. But, over time, minor problems can arise. Therefore, this issue can occur because of the large size of the PST file.
Third-Party Add-ins: When you run a third-party program, it may conflict with Microsoft Outlook, resulting in Outlook sync error code 0x80040115.
These are all the reasons for the occurrence of this error. Now it's time to know how to solve it.
How to Resolve Outlook Error 0x80040115?
There are several manual ways to solve this:
Method 1: Clear DNS Cache (Flush DNS):
In most situations, there could be a problem with the DNS configuration. You need to flush your DNS in this situation, which means you can clear your DNS cache. But you need to make sure that you are using an administrator account while doing this. Take a quick look at how to perform this action:
Click Windows Key + X and choose Command Prompt (Admin) from the list to open Command Prompt.

Type the following command and press Enter: ipconfig /flushdns

Then check the problem.
Method 2: Open Outlook App in Safe Mode
If you are using third-party add-ins, you can try to launch Outlook in safe mode to see if that fixes the problem. Here's how to do it:
Click Windows Key + X to open Run.

Type the following command and press Enter: outlook /safe

Try sending an email to see if the problem persists until Outlook opens.

If the problem is resolved, you need to uninstall the add-ins by going to File then Options.

Tap on Add-ins on the left and select Remove all third-party add-ins.
Method 3: Update Profile Settings:
Another way to solve your problem would be to change your profile settings a bit. If you are not using an Exchange account, the problem is likely to be resolved. Here's how to do it:
First of all, go to Start Menu >> Control Panel.

View and open Mail and set large icons.

Click on Show Profile >> Select your Profile >> Click on Properties.

Tap Account Email, highlight your account, then tap Edit.

Tap More Settings on the bottom left tab.

To switch to the Security tab, check Encrypt data between Microsoft Office Outlook and Microsoft Exchange.

Press the OK button.
Method 4: Repair Outlook Installation
Ultimately, the error will refer to a failed configuration of Microsoft Outlook. In such a scenario, reinstalling Microsoft Outlook will easily resolve the installation. To do this, follow the given instructions:
Click Windows Key + X and select Apps & Features at the top.

Locate Microsoft Outlook in the list, select it, and press Edit.

Then try running a quick repair and see if that fixes the problem. If not, choose Online Repair.

Check the error.
So these are all manual methods to fix Outlook error 0x80040115. But these methods are very long and complicated. It cannot solve this problem, so it is better to use the direct method. This reported error 0x80040115 can be caused by corrupt Outlook PST files. To fix them, you can use the PST Repair utility. It is a professional tool that is used to quickly recover all corrupt and damaged PST files without any data loss.
Conclusion
We have discussed Outlook error 0x80040115 in more detail and then why it happens. After that, all manual steps are mentioned to solve it, but this approach has some drawbacks to avoid which a straightforward method is also mentioned in this blog.