Microsoft Outlook is a commonly used email client worldwide. Outlook supports PST (Personal Storage Table) format to store all data in Outlook profile including email, appointment, calendar, etc. One of the common problems faced by Outlook users is the accidental deletion of email. There is a recycle bin for Microsoft Outlook where deleted files are stored and the user can easily restore files if necessary. But what if Outlook PST files are permanently deleted? Well, permanently deleted data is not completely erased from the system until it is overwritten. Now the question arises that how to recover deleted PST files in Outlook? In MS Outlook, the Deleted Items folders are available in all versions. However, due to the Outlook retention period policy, emails will be automatically deleted after some time.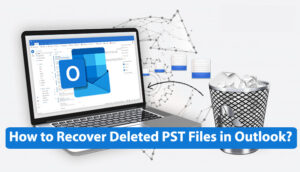 Let us now see some reasons for deleting Outlook email and then we will discuss
Read: How to Fix Email Disappearing from Outlook inbox Issue with Easy Methods?
Reasons Behind Outlook PST Deletion
Some common reasons behind the Outlook PST file are listed below 
Outlook PST file deleted by mistake.

The Outlook Deleted Items folder has been mistakenly deleted.

When the "Empty Deleted Items Upon Exiting Outlook" folder, Outlook's Advanced option is enabled.

Set the retention period for deleted items.
These are several reasons behind the removal of Outlook PST. We will now proceed to various methods to restore an accidentally deleted Outlook data file. Here, we are going to describe the manual as well as the best automated PST repair tool for better understanding and intuitive approach.
How to Recover Deleted PST Files in Outlook Manually
Here we have discussed the manual steps which are free. Follow the methods described below without skipping any step.
Method 1: Use the backup and restore options
If a database backup is available, one can easily restore deleted Outlook items. Follow the steps given for backup.
Open the control panel.

Find backup, then tap Restore My Files.

Navigate to Choose Files or Folder to select the previously created backup.

Navigate to the location to save the restored file or folder.
Method 2: Recover from the Deleted Items Folder
Users can easily recover items in the Deleted Items folder that have not been permanently deleted. To do this, follow the steps below.
Log in to your Outlook profile.

Select the Deleted Items folder tab in the left panel.

Right-click the mail you want to move, and then select the folder to which you want to move it.

If the user has deleted some emails from the recently deleted items folder, the email can be restored. Tap on the recently deleted recovery item from this folder option.

Select the mail you want to recover and press the OK button.

Now check the Deleted Items folder and you will find the restored item in the folder.
Note: If Outlook items are not permanently deleted then manual methods will help you. And if there is no backup available to restore the email, it will be impossible to recover permanently deleted data. An option would be required to deal with deleted Outlook PST file recovery.
Conclusion
In this blog, we have discussed various methods for user queries on how to recover deleted PST files in Outlook? We have also given several reasons behind the removal of Outlook data. We have described the manual for users. If no backup is available and files are permanently deleted, users should go for optional professional tools that can easily restore all deleted items and provide additional features to simplify the recovery process is.