The outlook is an email service tool developed by Microsoft. It is therefore distributed with the Microsoft Office suite as well as various products such as Microsoft Excel and Microsoft Powerpoint. But you can also download it separately from Microsoft's official website and use it on your system. While there are many common issues with this Microsoft Outlook tool, the Outlook error 0x8004010f is one of them. In this article, you will learn effective procedures to resolve this Outlook error message.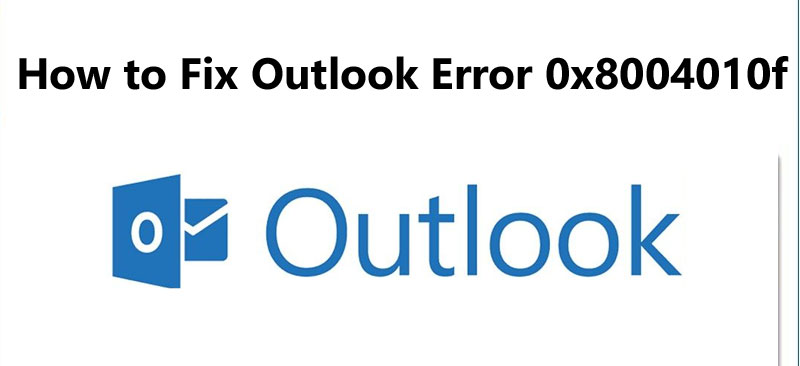 Read: How to Fix Outlook Error 0x800ccc67
How to fix Outlook Error 0x8004010f?
This Microsoft Outlook error 0x8004010f is preventing you from sending or receiving messages. So first, you should fix this problem until you can use this Microsoft product. After experiencing these error code effects, start the process to resolve it now.
1- Open Microsoft Outlook
To resolve this Outlook error 0x8004010f, you first need to open Microsoft Outlook. You can search for it in the Windows search bar and then click on it to open it.
2- Access Account Settings
After Microsoft Outlook opens, click File in the top panel. After that choose Info, now you will be able to see the Account Info window. In that window, click on the Account Settings option, then it will open. Then choose the Email tab under the Account Settings window.
Then select the account from which you are receiving this error message. Additionally, you need to click on the Change folder option which will be generated at the bottom of this window.
3- Define a folder to store messages
By following the above procedures, a new e-mail delivery location dialog box opens. Now you need to select the new Outlook data file option and then enter a name for this new Outlook data file.
Then press Enter to save the changes. Now in the Account Settings dialog box, choose Folder again in the Folder box. Then choose the newly created Outlook data file and set a folder to hold your email messages. Then click on OK.
After doing all the process, close the Account Settings dialog box and go to the "Send / Receive" tab. Now you can see if you can send or receive a message by doing this process.
This is the complete process by which you can fix this error message 0x8004010f from Microsoft Outlook. Now by going through this process, you may be able to send a message to the person you want, it could be your colleague or loved one.