The outlook is one of the best email service providers. You can send and receive emails without interruption. It comes pre-installed with the MS-Office package. However, other problems may occur when using Outlook services. The 0x800ccc67 error is one such error due to the SMTP protocol in Outlook as well as Windows Live Mail. When this error occurs, it indicates that the email you were trying to send cannot be sent. The Outlook error 0x800ccc67 displays the error message "An unknown error has occurred." This error occurs when the email provider changes SSL or port settings. Another reason may be because the firewall denied SMTP access.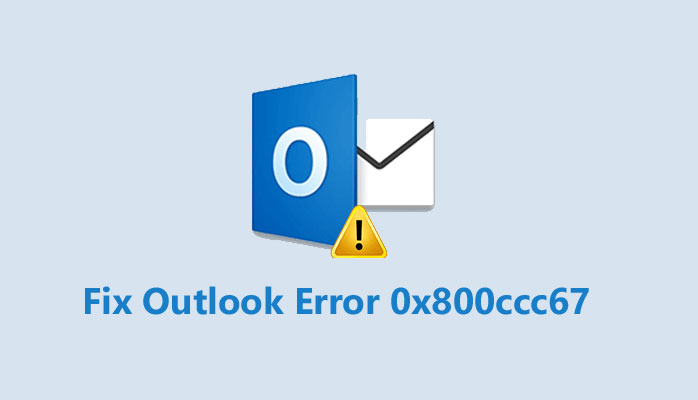 In this article, we are going to show how to fix outlook error 0x800ccc67.
Read:- How to Fix Outlook Error 0X80070021 with Simple Way
How to Fix Outlook 0x800ccc67 Send Receive Error?
You can follow the troubleshooting steps below to resolve the Outlook error message.
1- Disable antivirus and firewall
You can temporarily disable antivirus and firewall to fix Outlook error. You can easily turn off antivirus from the bar icon in the lower right corner. Click the bar icon to expand the menu. There you will see many icons. Right-click on the antivirus icon. Then choose "Temporarily Disable Antivirus". After disabling antivirus, check if you have the error 0x800ccc67 sending the same Outlook when you try to send or receive the email.
2- Change SMTP port
You can try changing the SMTP port and see if the error persists. Follow the instructions below to change the SMTP port.
Open Outlook and click on Tools.

From the drop-down menu, select "Accounts or email accounts".

Here you need to view or edit an existing email account.

Click Next, then choose Account.

In the next step, click Edit.

Then choose "More Settings".

In Outlook, choose Accounts, then click Properties.

Go to the Advanced tab, then change the outgoing mail port and save the settings.

Uncheck the option "This connection requires a secure SSL connection" then click OK.

Finally, restart Outlook and check if the error has been resolved.
3- Restore outlook
If none of the above solutions work for you, you can reinstall Outlook and see if you came across the error. Follow the steps to uninstall and then reinstall Outlook.
Click on the Windows icon and go to Microsoft Outlook.
Right-click on the program then click "uninstall" from the list.
This will uninstall Outlook. Now you can install Outlook. This will fix Outlook error 0x800ccc67.
Many people use Microsoft products and software. And as such, they are vulnerable to such error message issues. If you use many different Microsoft products, this may be the same for you.
And if you need any information on how to resolve these errors. Then you can get it from this website.